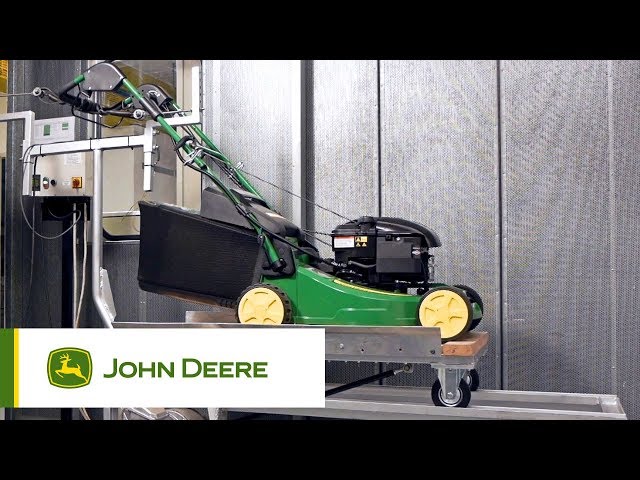 USE
Our range of John Deere walk behind mowers come in a full range of sizes, starting from 40cm (16inch), all the way up to 54cm (21inch). The bigger machines do tend to be heavier in weight, but we will try and recommend the size and weight that would be suitable for your requirements. The lightest petrol John Deere mower is only 24kg, which is the R40. Visit us in the showroom to see the full range of machines side-by-side.
WHY
John Deere is renowned for its superior build quality and unmatched reputation - you can rely on perfect performance each and every time. The produce the perfect cut and are easy to operate making them the ideal mower to have at home. When you buy a John Deere you also get a superior level of product support from us, not only at the point of purchase but for the lifetime of the machine.
MULCHING
Mulching blades work best used regularly, cutting the tips off the grass in to tiny particles and then dropping them below the mower back onto the grass. These tiny slithers of grass are then blown downwards deep into the grass out of sight. As they break-down they deposit key nutrients back into the grass which are normally removed after cutting & collecting. Mulching provides a great finish, keeping the grass looking a lovely green colour. Several of the John Deere walk behind mowers can support a mulch-plug accessory! Talk to our Sales Team to find out which machines can support a mulch plug accessory.
COLLECTING
To get the best from your lawn regular mowing during our summer months is essential. Collecting and removing the cuttings is a popular alternative to mulching the grass. There are plenty of other uses for your grass clippings around the garden if you don't want to leave them loose on the grass. Give your hedges a helping hand, the nutrients in the clippings act as a natural fertiliser and a fantastic defense against weeds. Alternatively make your own compost for an easy, cost effective way to add nutrients back to your plants.
REQUIREMENTS
John Deere have designed and built mowers to suit several requirements. Discussing your requirements with any of the sales team will assist us in advising the right machine to suit your needs. We supply electric, battery and petrol powered mowers. Some are dedicated mulching machines, and others have the ability to mulch or collect. We have the premium quality John Deere mowers which are called the "Select Series", and then the entry level John Deere mowers called the "Run Series". They all come with their own features which includes electric key-start, self propelled rear wheels, and a few with the ultimate anti-vibration to eliminate any discomfort over a long period of use.
MAINTENANCE
John Deere walk behind mowers are very easy to maintain. We would always recommend cleaning the underside of the mower as often as possible. Simply tipping it on its side (air-filter up) will give you clear access to the mower deck itself. Before every use, a quick check on the oil dip-stick to ensure a good level of lubrication, and then checking inside the fuel tank will get you out mowing as quick as possible. Annual servicing is strongly recommended. Simply bring the mower back to us in depot and we will do all the necessary checks and servicing to keep it in tip top condition for another season. We have a team of specialists at all of our depots ready to help. Happy to get your hands dirty yourself? Buy a service kit from us which will have all the essential components to change and check with a clear instruction manual on how to do it. We're on hand for the trickier jobs when you need us.
SUPPORT
Before any of our machines leave us our team of specialist technicians run a full pre-delivery inspection. We're also on hand to answer any of your questions and give you an overview tutorial of the machine and all it's features. This ensures as soon as you get home you're confident and ready to use your machine.